YOUR RESULTS: LOW SEROTONIN
Improve Your Mood & Reduce Stress Naturally

Your brain needs the right nutrients to produce optimal amounts of Serotonin. It's hard to get all this from diet alone. Give your brain a boost with our all-natural formula, Serotonin Brain Food™, for a positive mood.
Feeling overwhelmed on a daily basis?
Your daily 9-5 grind, relationships with your S/O or family, and worrying about every little thing adds up. We take our mental health for granted.
But, do we really have to ignore feelings of stress and moodiness just to get through the day?
If you're like me, you'd rather enjoy work and relationships without -
Overeating
Stressing out
Being constantly overwhelmed
Riding endless mood swings
Or at least get through the day without a big nap to make up for poor sleep and a packed schedule.
Enter serotonin, your brains' mood regulator…
Serotonin is a naturally produced chemical that helps regulate things like sleep, your mood, and stress levels.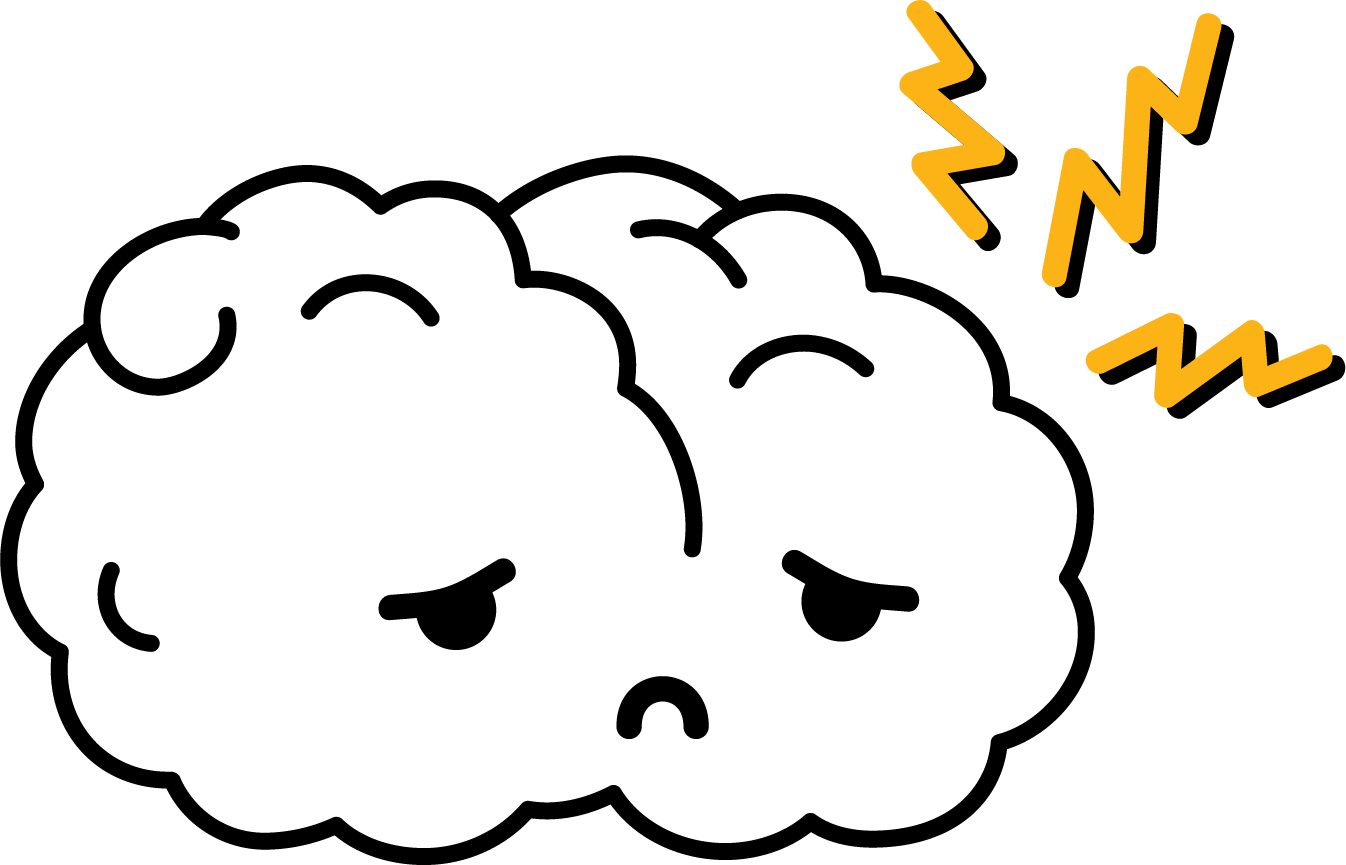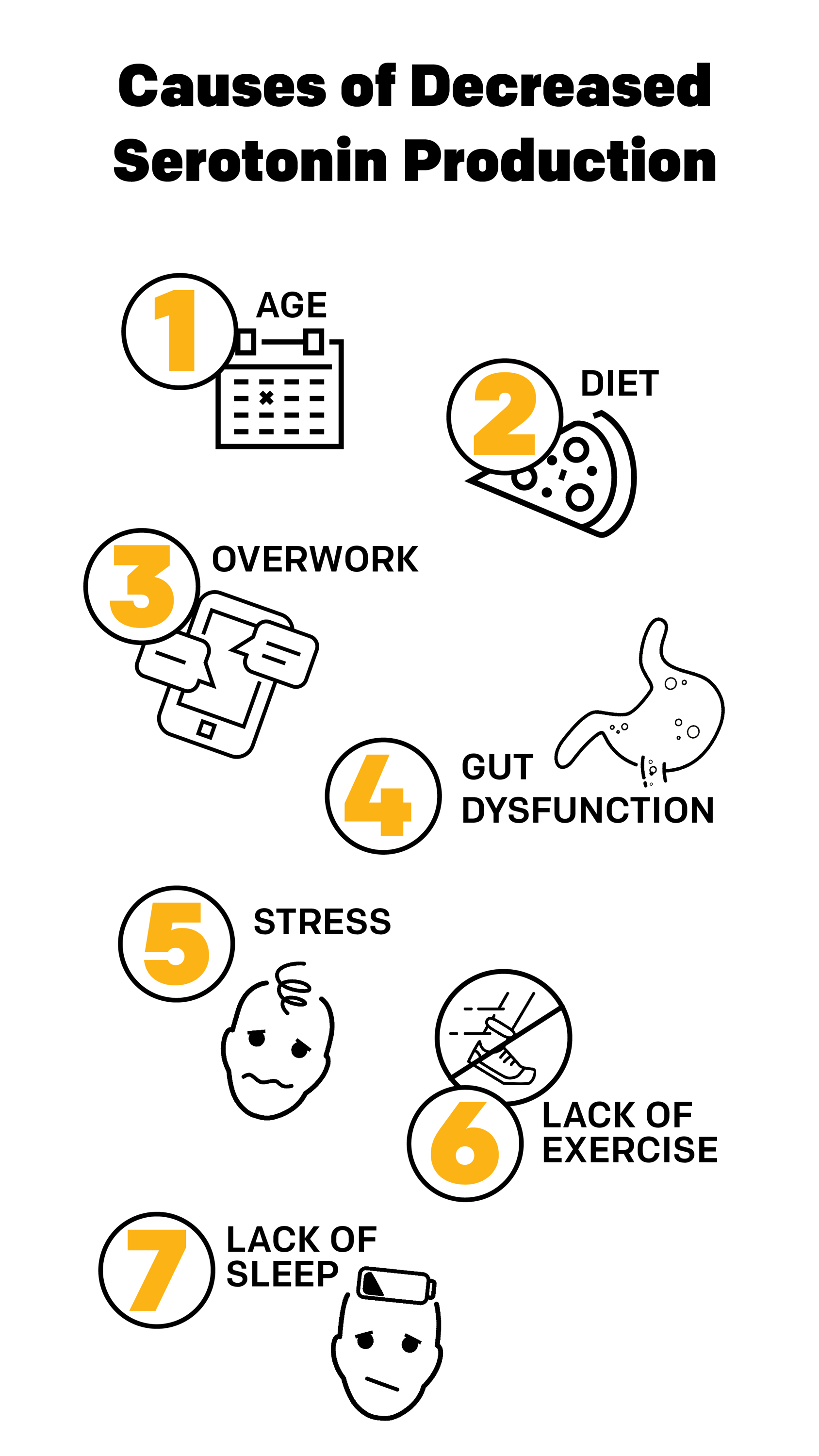 Is my body making enough serotonin?
While it's true that we naturally produce serotonin, your body often doesn't get the proper amount of nutrients it needs to metabolize the neurotransmitters which enable optimal levels of natural serotonin.
There are several reasons that can cause your body to not produce the right amount of serotonin naturally. Some of which include -
Age
Diet
Overwork
Gut dysfunction
Stress
Lack of exercise
Lack of sleep or poor sleep
That's just to name a few! There are a million reasons why your serotonin levels could be out of whack.
Here's the truth: Even if you're eating healthy, getting plenty of sleep, and exercising regularly, your body could still be unable to produce serotonin at its most optimal levels.
That's where supplementation comes in!
Simply, incredible!
"This formulation has helped me in unbelievable ways - calmer, deep restorative sleep, focus, understanding (a result of a calmer mind). I cannot thank the makers enough.
A MUST TRY FOR ANYONE WHO WANTS TO BE A (MUCH) BETTER VERSION OF THEMSELVES."
When You're Low in Serotonin...

ONE LITTLE THING Can Make It Feel Like Your World Is Falling Apart...

That's why we created an all-natural solution for keeping Serotonin levels in check.

Introducting: Serotonin Brain Food.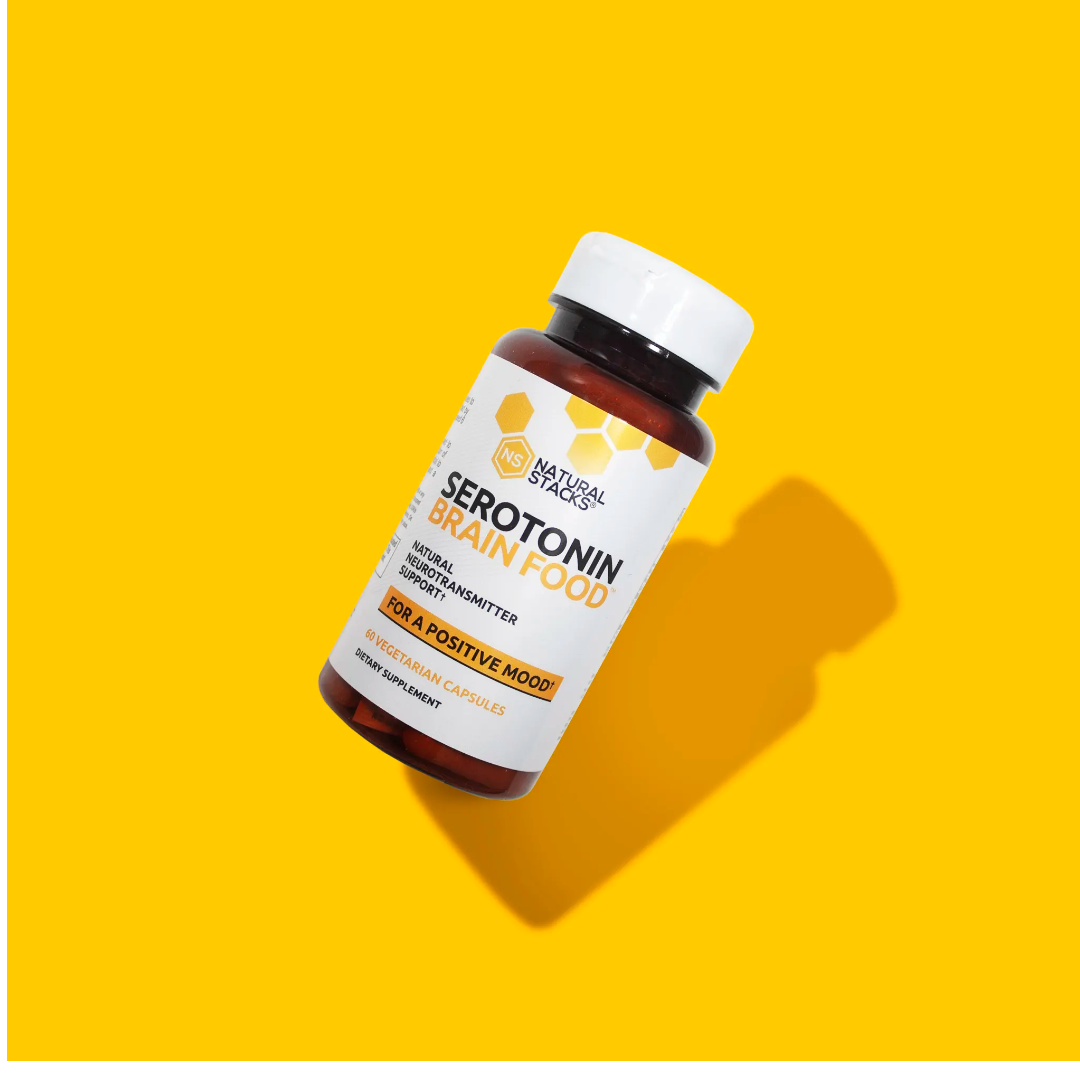 HOW I DISCOVERED AND SOLVED MY SEROTONIN IMBALANCE
I was inspired to create this product when I was at the lowest point in my life.
I had always been a football player. It'd been my "thing" ever since middle school. And, I was good at it too. I even got a scholarship to play football in college. I was living my dream.
That is until I ended up tearing my ACL/MCL - one of the most common injuries in college sports. Needless to say, I was devastated.
It felt like my identity had been ripped away.
I didn't like school anymore. I stopped answering texts from friends. All in all, I felt like a shell of my former self.
For six months, I just stopped doing everything that I loved.
But let's hit pause on my story. What activities or hobbies have you stopped doing seemingly out of nowhere? Plans or goals that used to bring you immense joy and happiness, but - for some unknown reason - you can't bring yourself to do them. Is your passion lost, too?
This is the number-one sign of low serotonin.
If you can't find joy doing what you love, then something's wrong. Likely, a chemical imbalance that starts with your neurotransmitters.
The answer? Serotonin Brain Food.
The reason Serotonin Brain Food is revolutionary (unlike SSRIs and other antidepressants): It's an all-natural, non-addicted, no chance of down-regulation, supplement to help your body naturally reach optimal levels of serotonin.
With each dose, you'll naturally reclaim that joy you once had and de-stress along the way.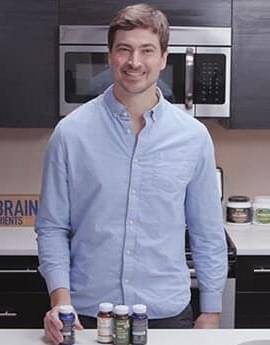 Roy Krebs - Natural Stacks Founder
Hi, my name is Roy Krebs, founder of NaturalStacks.com, and I have been taking Serontin Brain Food to fight my mood swings & stress every single day for over 7 years.
It all started when I was watching my grandfather suffer through Alzheimers. If any of you have witnessed a friend or family member struggle through this disease or something similar, you know how helpless you feel as a witness.
That's when my passion for natural health drove me to seek the truth about the causes of health problems and to educate people on alternative solutions that are both safe and effective.
My stint with joylessness in college post-ACL injury made me realize I never wanted to go through that same moody state again...
Now I simply take a daily dose of Serotonin Brain Food to keep life's big and little stressors at bay.
Claim Your FREE Bottle Today!
Natural Stacks Serotonin Brain Food
✔ IN STOCK – READY TO SHIP
Natural neurotransmitter support for a positive mood.
Serotonin Brain Food naturally supports:
A better mood

Helps relieve stress & overwhelm

Helps calm anxious feelings
FREE - Just Cover Shipping!
(only pay shipping + handling, no re-bill)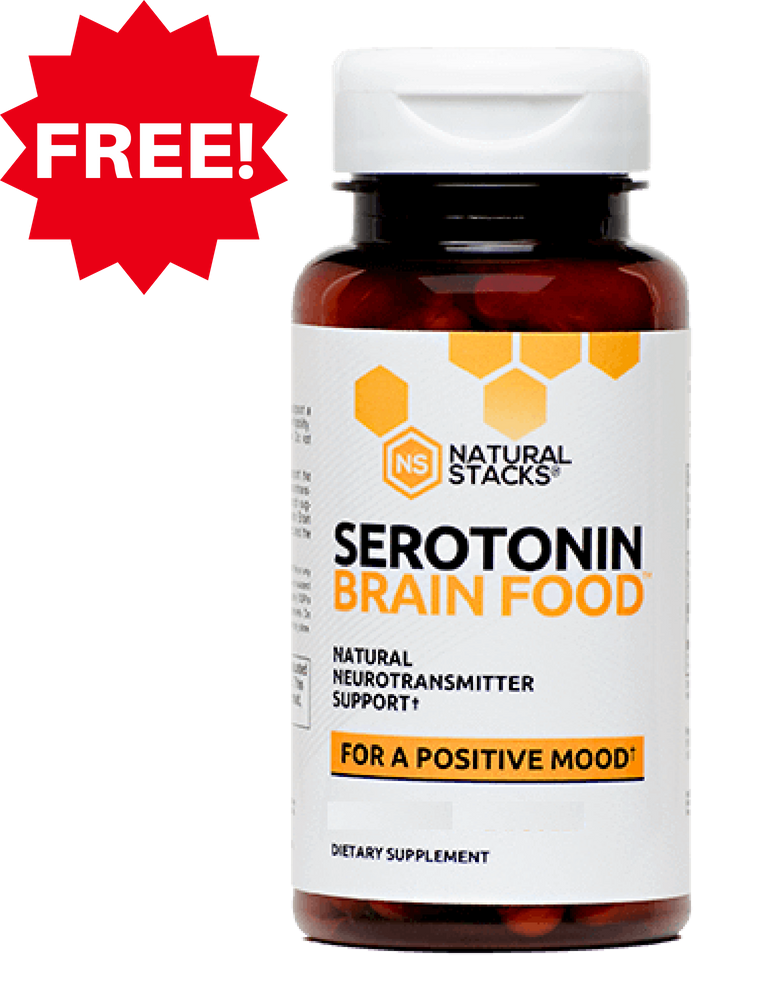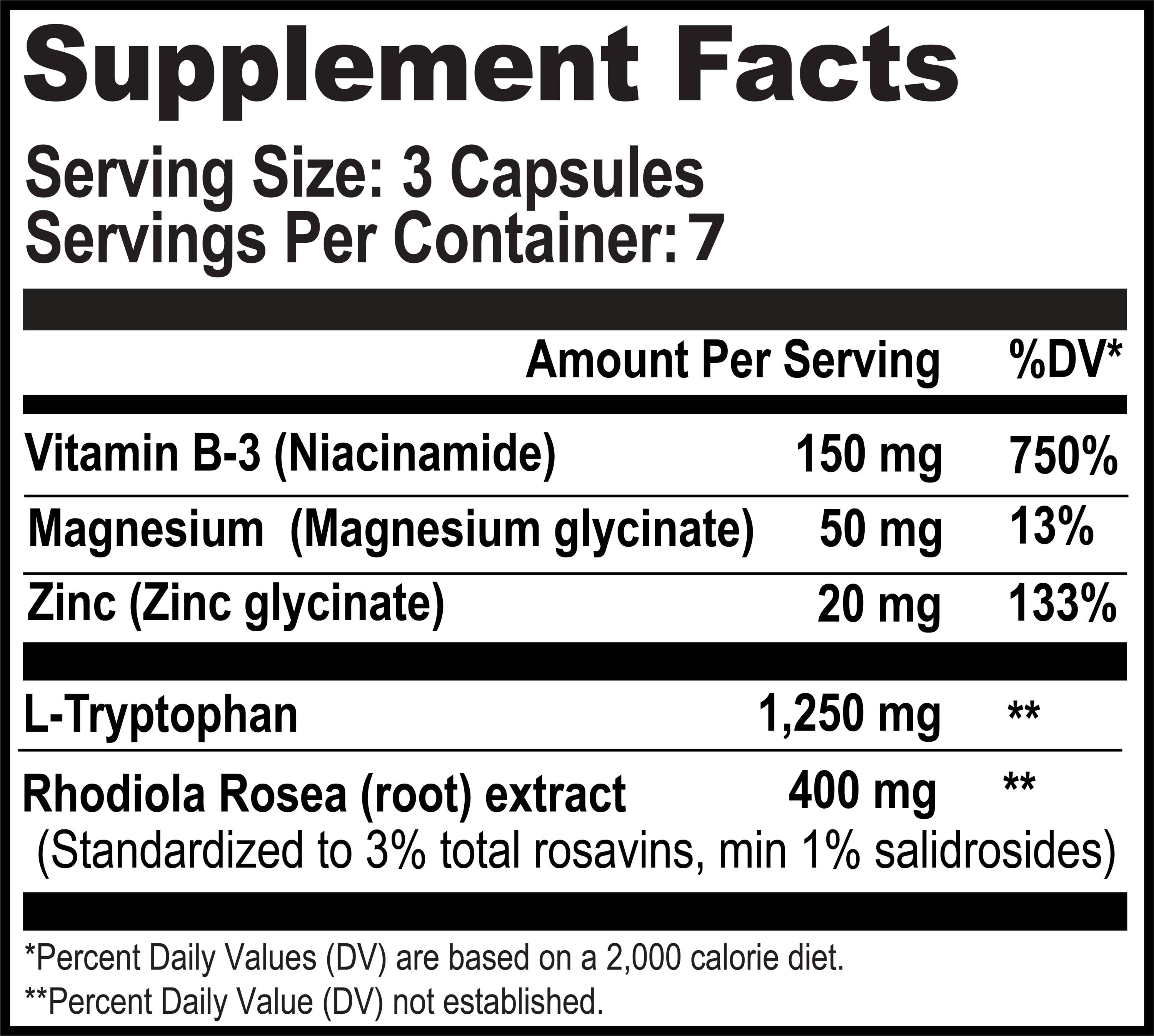 Over 150+ Verified
SEROTONIN BRAIN FOOD™ Reviews
97% of reviewers would recommend SEROTONIN BRAIN FOOD™ to a friend for:
Improved Mood, Reduced Stress
and Enhanced Sense of Wellbeing!

"I am really amazed by the results of this product.
Since the first day I felt really calm and freed from my anxious thoughts. I've been using the dopamine a little longer now but since I've added serotonin I feel much more positive, it has improved my overall mood and my anxiety is gone... just wow. Highly recommend this product!"
---
"Helps me feel calm, happy and relaxed. Things seem to just roll off my shoulders when I take the Serotonin."
---
"I struggle with an anxiety disorder that can be intense at times. Serotonin really helps me feel positive and upbeat to help me get over those tougher times. I love that this product won't down regulate your regular serotonin production. Thanks to this, along with good sleep and exercise, I have been able to stay off prescription meds."
---
"Quality energy leaving me focused and content. Stacks well with anything"
"I am a 46 year old woman and I had been feeling very irritable and not myself at all. I've been taking Serotonin brain food for almost 2 months and I can feel the difference in my mood. The irritability is gone and my brain feels like it did when I was in my twenties. Thank you Roy!"
---
"Serotonin Brain Food has been able to affect my mood greatly!"
---
"After a few days, I can feel my whole mood change. I feel happier and my mind feels clearer. Definitely recommend this product."
---
"Makes me happy, It gets me through days in a very stressful job."
---
"Wonderful!! I've been using for a few months now.. Mood has improved, I am getting ready to re-order.."
"I've been dealing with severe depression on and off since I was 18. After 5+ years on SSRI's, I tapered off to a huge onslaught of new symptoms: chronic debilitating anxiety and irritability, anger, lack of motivation (which resulted in a little bit of weight gain) and the worst: chronic telogen effluvium (hair loss) for almost 3 years accompanied with trychodynia (scalp pain).
After having some very dark thoughts for the last few months, I decided to make a change. I incorporated Serotonin Brain Food and felt a change IMMEDIATELY. I can not stress that enough. I felt a difference so significant the next day, that I got my butt to the gym and have cut gluten out of my diet. I am also taking a few other vitamins to support my mental well being but I am amazed at how much this product has helped me. I feel joy. I feel calm. I can sleep and don't feel exhausted all day! I've been taking 2 capsules every evening before I go to bed for the last week and am a new person. I'm not sure if it would be better to take them in the morning but so far this is working for me.
---
"I am a pre-menopausal mother of four young kids and this has been a life saver of my moods and outlook on life during the tougher parts of my monthly cycle. Also ever since the days have gotten shorter, so does my serotonin go down...and sleep...that's the biggy. As long as I remember to take the Serotonin in the evening, bam, a good nights' sleep. Yes, all my family thanks you. I wouldn't be getting it if I didn't trust the quality of your ingredients."
Serotonin Brain Food is the world's first, highest quality, and most competitively priced natural supplement scientifically formulated to boost Serotonin...
See how Serotonin Brain Food stacks up to the competition...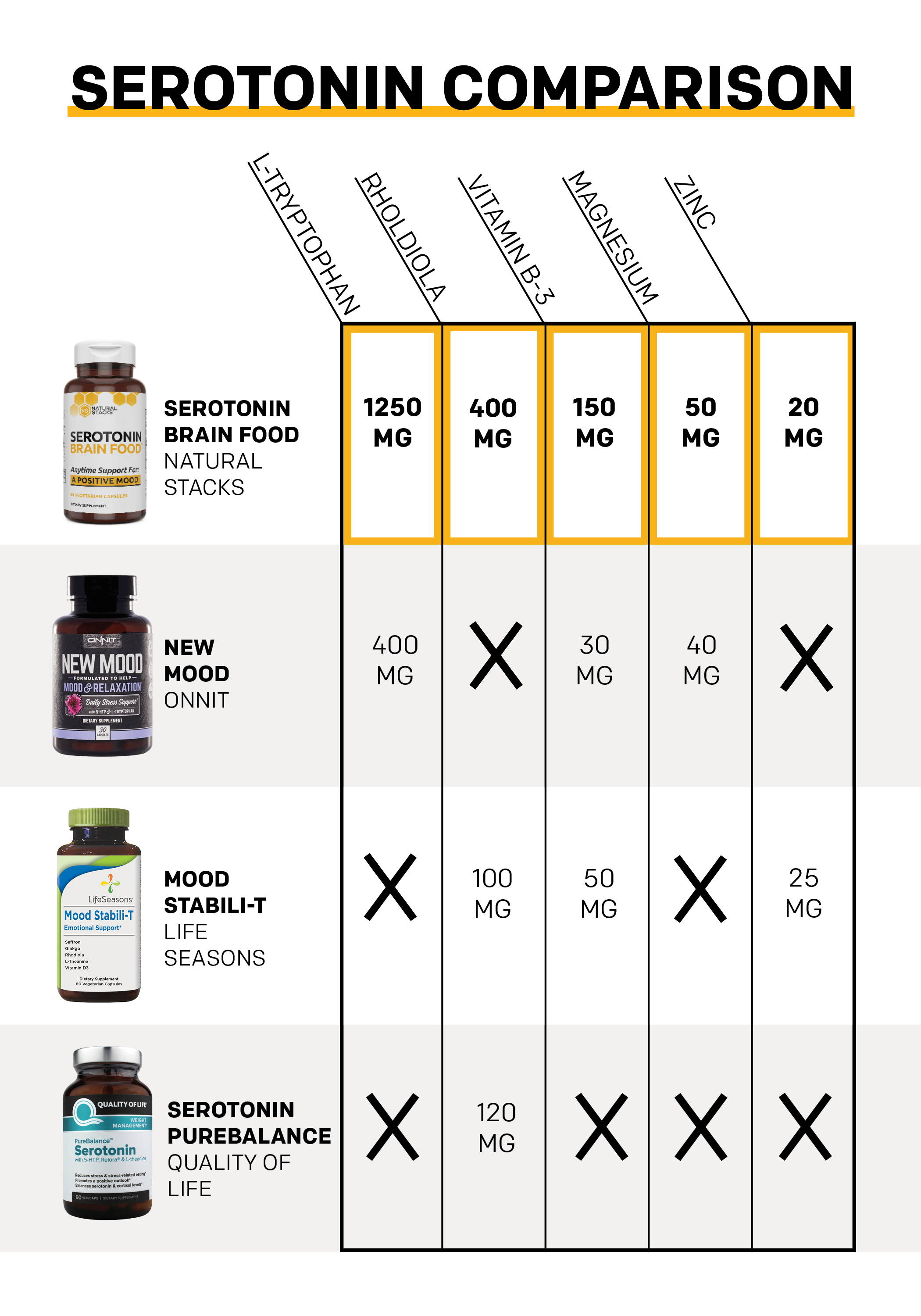 The reason the all-natural ingredients that make up Serotonin Brain Food work is because of co-factors.
Co-factors are vitamins and minerals for your brain.
Your brain needs food just like any other organ in your body.
By providing the body with the right co-factors we can give the brain all the tools it needs to maximize Serotonin production.
Here's what's inside our all-natural formula to optimize and regulate your brain's serotonin levels...
But How Do I Know if I'm Low in Serotonin?
If you've ever experienced any of these symptoms you should try taking Serotonin Brain Food.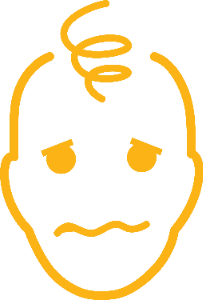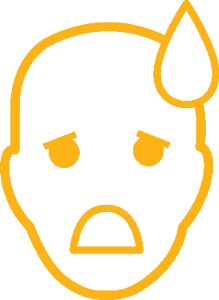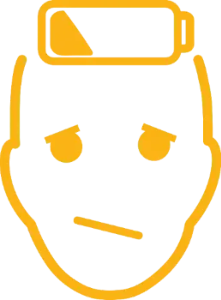 Daily stress levels chronically, or unusually high
Inability to naturally control stress levels
Small or unimportant events causing anxious feelings
Constant feeling of dread or overwhelm
Inability to fall asleep or stay asleep throughout the night
Feeling of tiredness throughout the day
Can't I just get serotonin from food?

While it's true you can help your brain reach optimal levels of serotonin by consuming a rich diet in foods like avocado, eggs, and spinach.
But, it's difficult to get the right balance and optimal levels of nutrients in order to give your brain all the co-factors it needs to producte optimal levels of serotonin on a daily basis!
That's why supplementation can help you always reach those optimal days where nothing stresses your out and you feel great!
Take three capsules every day to give your brain it's best chance at keeping stressors at bay!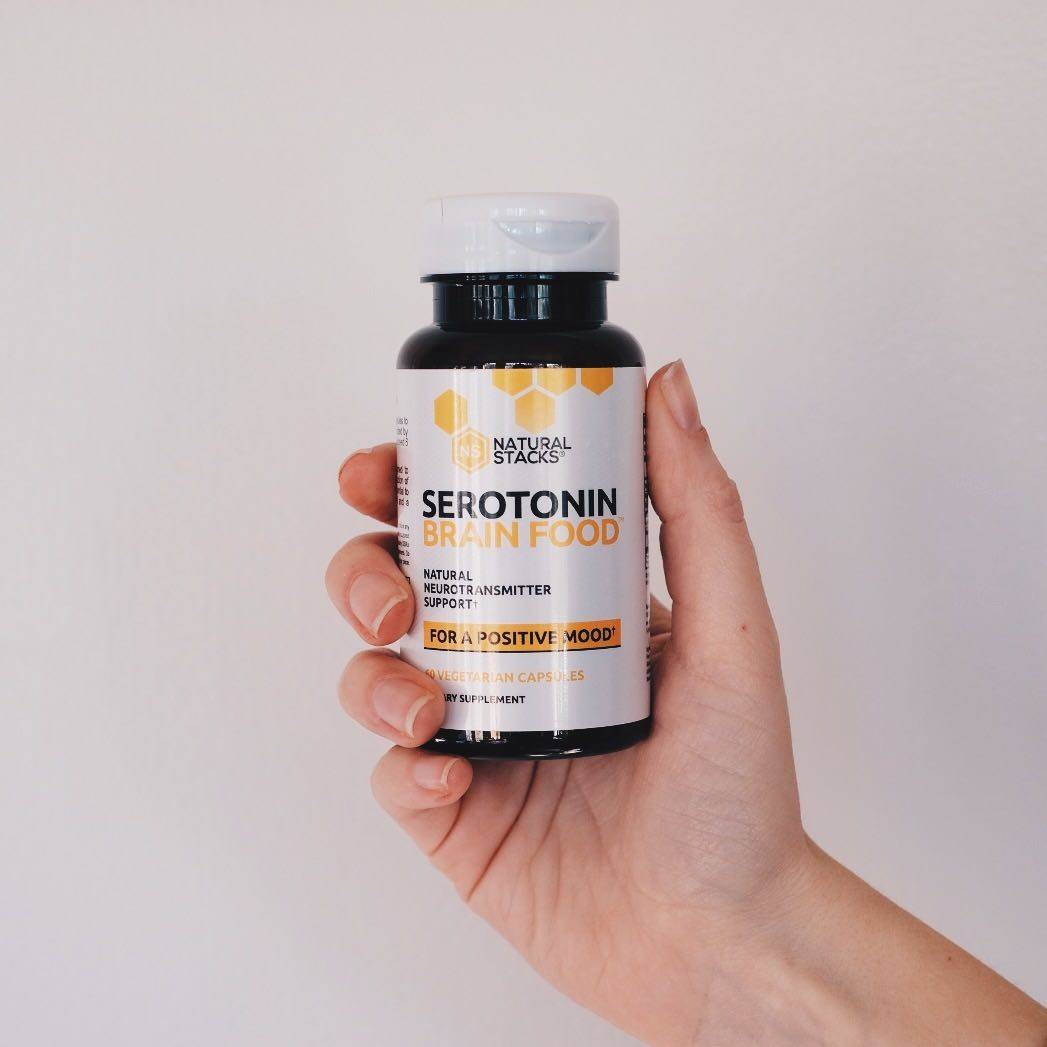 100% Happiness Guarantee
If for whatever reason you're unsatisfied with your Natural Stacks supplements, you can keep the full bottle on us and we'll refund your money. Anything after the first bottle, we'll ask that you return for a refund. Simply give us a call at 855-678-2257 or email us at support@naturalstacks.com and we'll take care of you.
Terms and Conditions:
This is an exclusive one-time purchase offer, not found in stores. Natural Stacks will not re-bill your credit card and you are not signing up for a subscription. I am offering you the chance to try Serotonin Brain Food at absolutely zero-risk.
Real Success Stories with Serotonin Brain Food
"I love it and don't want to be without it" - Malissa
"It helps me to maintain a sense of calm and increased productivity" - Raj
"I'm at work and ready to face the day!" - Gina Marie
Questions About Serotonin Brain Food? We've got your answers...
Q: How Do I Use Serotonin Brain Food?
A: We recommend starting 2-3 capsules whenever you need a mood boost. It works better and faster on an empty stomach as it is more easily absorbed.
Q: How Does Serotonin Brain Food Work?
A: By providing your body the nutrients it needs to metabolize these neurotransmitters, it is able to achieve optimal levels naturally. This method of naturally finding optimal levels also removes the chance of down-regulation, so you can safely take our Brain Foods to achieve and maintain optimal levels of Serotonin for long-term use.
Q: Is Serotonin Brain Food Safe?
A: Absolutely! Serotonin Brain Food™ only contains the natural vitamins, minerals, and amino acids involved in the metabolism Serotonin. You are not directly ingesting or manipulating Serotonin.
Q: What If It Doesn't Work For Me? 
A: Your happiness is our happiness. If you don't like it or if it doesn't work, we'll refund you with zero hassle. There's no risk on your end.
Claim Your FREE Bottle Today!
Natural Stacks Serotonin Brain Food
✔ IN STOCK – READY TO SHIP
Natural neurotransmitter support for a positive mood.
Naturally supports:
A better mood

Helps relieve stress & overwhelm

Helps calm anxious feelings
FREE - Just Cover Shipping!
(only pay shipping + handling, no re-bill)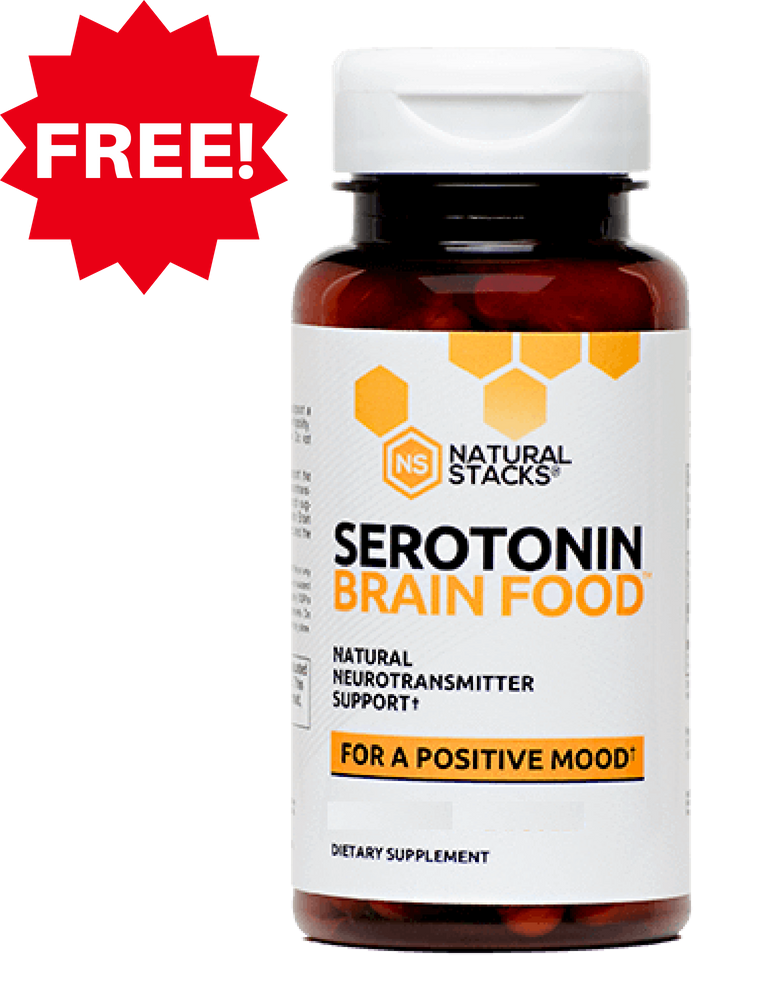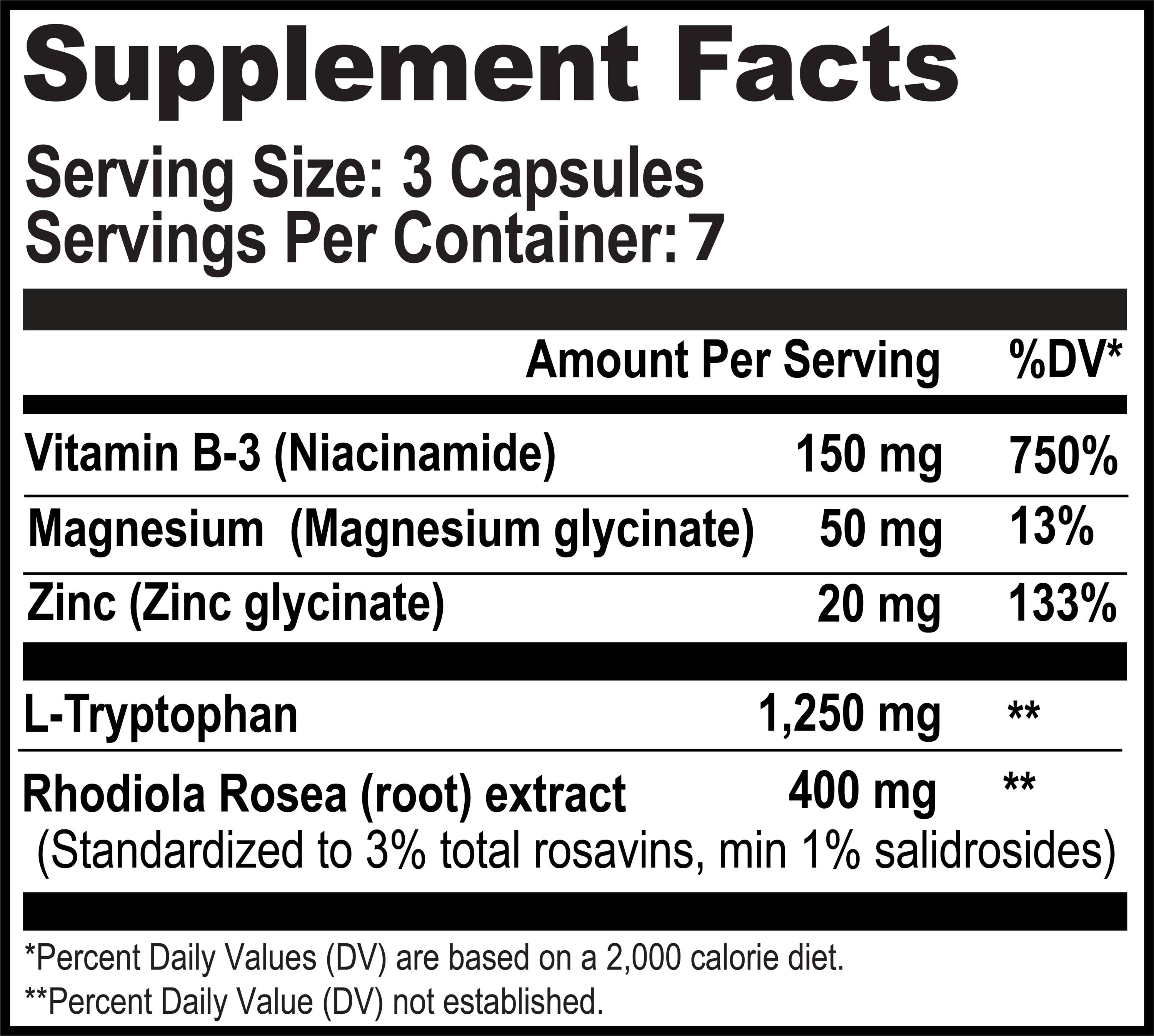 If you have any questions, give us a call at
855-678-2257